About Hobe Sound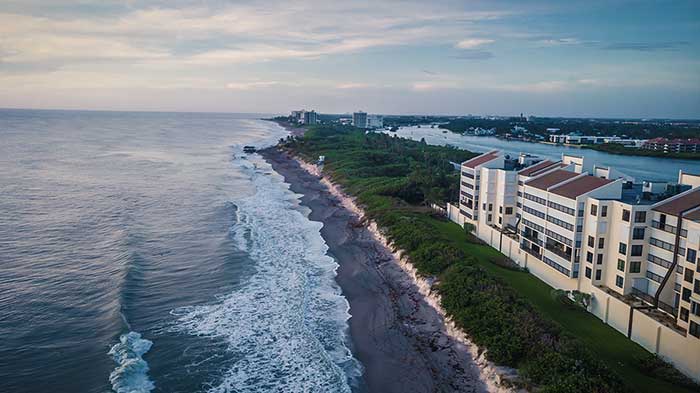 Centrally located between Jupiter and Stuart along Florida's Atlantic coast, Hobe Sound is home to some of the most beautiful nature spots in the state. Travelers from all around the world enjoy its pristine beaches, unspoiled parks and championship golf courses. Explore nearby Jonathan Dickinson State Park for camping and canoeing or Blowing Rocks Preserve to view the limestone-studded beach. At high tide, particularly in winter and after storms, water is forced through the holes in the rocks as high as 50 feet in the air. Snorkelers also are found of the preserve's limestone formations, the largest on the nation's east coast.


Helpful Links
A Little History
The name of Hobe Sound comes from the name of the Jove or Jobe Indians, one of the Native American groups that lived in the area before European settlement. The Spanish pronounced Jove/Jobe as [ˈxoβe], which later evolved into the current spelling "Hobe".

The earliest recorded European contact occurred in 1696 when a British ship, the barkentine (three-masted ship) Reformation, sailing from Jamaica to Philadelphia sank close to the shore north of Jupiter Inlet, carrying 25 passengers and crew and a cargo of sugar, rum, beef, molasses, and Spanish currency. The small Quaker party, including its most notable passenger, Jonathan Dickinson, encountered and received aid from the Jove Indians. Hobe Sound received its name by 1699, according to the Florida WPA Guide.

Parts of Hobe Sound were included in the 12,000 acres (49 km2) of the Gomez grant given by Spain to Don Eusebio in 1815. In 1821, Gomez sold 8,000 acres (32 km2), including Jupiter Island, to Joseph Delespine for $1 per acre.

Shortly after the turn of the 20th century, Henry Flagler built his railroad along the east coast of Florida passing through Hobe Sound. This gradually created many opportunities including jobs, the birth of tourism, and other related industries.